Please
SSSave Money & Explore the West with a MTravel Trailer or Motorhome Vacation.
For Rates & Reservations: 209-523-2131
Renting a Travel Trailer or Motorhome is an exciting Family Adventure. RV traveling to wonderful places builds lifetime memories which y
our family will talk about for years to come.
You need not fear the gas pump?
Today's RVs are getting better fuel mileage and more efficient. The average regional trip only adds an average of $50 to your budget, while a trip across the states incurs only a 10% increase in your fuel budget.
So Get Out There...
Explore The World...
Connect With Loved Ones...
Find Precious Moments...
Create Your Own Family Memories...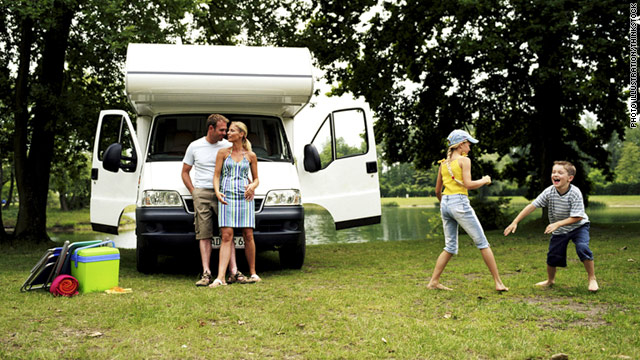 Enjoy Time Well Spent...
What To Rent:
Travel Trailers - Use your vehicle to tow and save:
Our travel trailers come in various sizes and floor plans.
. The benefit of Travel Trailers
is the ability of leaving it
at the site while having the convenience of using your tow vehicle to explore and visit points of interest.
Certain tow limits and restrictions may apply; please call our reservation desk for more information. Our Trailer rentals are generally limited

to California o

nly.
Also Available - Trailer Delivery / Pick-up:
Travel Trailers & 5th Wheels can be delivered to the surrounding lakes near Modesto, CA. We deliver to: Lake Don Pedro, Lake McSwain , Lake Camanche, Modesto Reservoir and others.
We also deliver to the California Delta: Snug Harbor - Vierra's Resort -Tower Park Marina - Sugar Barge - Turner Cut - Koket Resort - Bethel Island and more.
Class A Motorhomes - 32' to 35' w/ slideouts
Class C Motorhomes - 23' - 31' w/ slideouts
Great Nearby Destinations:
Yosemite National Park - Colombia State Park - Lassen Nat'l Park - Lake Shasta - Mt. Shasta -
Santa Cruz -
( New Brighton Beach
& Seacliff ) Monterey - Carmel - Big Sur - Cambria
Pismo - Point Reyes - Half Moon Bay - Bodega Bay - Manchester Beach - Gualala -
California Delta - Lake Don Pedro -
Lake McSwain - Camanche Lake - Modesto Reservoir -
Sonoma - Napa ( Wine Country ) - Clear Lake - and the list goes on...
Visit our office for RV Campground Brochures and more ideas on your next RV Adventure
For Rates & Reservations: 209-523-2131


Additional Services:
Alternative or Temporary Housing
Mobile Office
Remodels
Security Station
Seasonal Retail Lots
Wedding Dressing Rooms
Family Reunions
Event Planning
Local, State & Federal Disasters
Alternative / Emergency Housing
RV Repair / Service / Parts
Cars, Trucks, SUVs, Minivans, Convertibles, Vans
--------------------------------------------------------------------------------------------
CENTRAL VALLEY rv rentals, Modesto rv rentals, Ripon rv rentals, Manteca rv rentals, Stockton rv rentals, Oakdale rv rentals, Riverbank rv rentals, Turlock rv rentals, Atwater rv rentals, Merced rv rentals, Delhi rv rentals, Ceres rv rentals, Tracy rv rentals, Lathrop rv rentals, Lodi rv rentals, Patterson rv rentals, Livingston rv rentals, Gustine rv rentals, Escalon rv rentals, Newman rv rentals, Hilmar rv rentals, Waterford rv rentals, Hughson rv rentals, Empire rv rentals, FOOTHILL rv rentals, Sonora rv rentals, Angels Camp rv rentals, Valley Springs rv rentals, Jackson rv rentals, Lockeford rv rentals, Groveland rv rentals, Snelling rv rentals, La Grange rv rentals, SACRAMENTO rv rentals, Sacramento rv rentals, Elk Grove rv rentals, Galt rv rentals, Folsom rv rentals, Davis rv rentals, Roseville rv rentals, Auburn rv rentals, El Dorado Hills rv rentals, Placerville rv rentals, BAY AREA rv rentals, Livermore rv rentals, Pleasanton rv rentals, Concord rv rentals, Fairfield rv rentals, Fremont rv rentals, Hayward rv rentals, San Jose rv rentals, San Leandro rv rentals, Oakland rv rentals, Castro Valley rv rentals, Berkely rv rentals, San Leandro rv rentals, Danville rv rentals, Walnut Creek rv rentals, Palo Alto rv rentals, Santa Clara rv rentals,
CENTRAL VALLEY motorhome rentals, Modesto motorhome rentals, Ripon motorhome rentals, Manteca motorhome rentals, Stockton motorhome rentals, Oakdale motorhome rentals, Riverbank motorhome rentals, Turlock motorhome rentals, Atwater motorhome rentals, Merced motorhome rentals, Delhi motorhome rentals, Ceres motorhome rentals, Tracy motorhome rentals, Lathrop motorhome rentals, Lodi motorhome rentals, Patterson motorhome rentals, Livingston motorhome rentals, Gustine motorhome rentals, Escalon motorhome rentals, Newman motorhome rentals, Hilmar motorhome rentals, Waterford motorhome rentals, Hughson motorhomerentals, Empire motorhome rentals, FOOTHILL motorhome rentals, Sonora motorhome rentals, Angels Camp motorhome rentals, Valley Springs motorhome rentals, Jackson motorhome rentals, Lockeford motorhome rentals, Groveland motorhome rentals, Snelling motorhome rentals, La Grange motorhome rentals, SACRAMENTO motorhome rentals, Sacramento motorhome rentals, Elk Grove motorhome rentals, Galt motorhome rentals, Folsom motorhome rentals, Davis motorhome rentals, Roseville motorhome rentals, Auburn motorhome rentals, El Dorado Hills rv rentals, Placerville rv rentals, BAY AREA rv rentals, Livermore rv rentals, Pleasanton motorhome rentals, Concord motorhome rentals, Fairfield motorhome rentals, Fremont motorhome rentals, Hayward motorhome rentals, San Jose motorhome rentals, San Leandro motorhome rentals, Oakland motorhome rentals, Castro Valley motorhome rentals, Berkely motorhome rentals, San Leandro motorhome rentals, Danville motorhome rentals, Walnut Creek motorhome rentals, Palo Alto motorhome rentals, Santa Clara motorhome rentals,
CENTRAL VALLEY class c motorhome rentals, Modesto class c motorhome rentals, Ripon class c motorhome rentals, Manteca class c motorhome rentals, Stockton class c motorhome rentals, Oakdale class c motorhome rentals, Riverbank class c motorhome rentals, Turlock class c motorhome rentals, Atwater class c motorhome rentals, Merced class c motorhome rentals, Delhi class c motorhome rentals, Ceres class c motorhome rentals, Tracy class c motorhome rentals, Lathrop class c motorhome rentals, Lodi class c motorhome rentals, Patterson class c motorhome rentals, Livingston class c motorhome rentals, Gustine class c motorhome rentals, Escalon class c motorhome rentals, Newman class c motorhome rentals, Hilmar class c motorhome rentals, Waterford class c motorhome rentals, Hughson class c motorhome rentals, Empire class c motorhome rentals, FOOTHILL class c motorhome rentals, Sonora class c motorhome rentals, Angels Camp class c motorhome rentals, Valley Springs class c motorhome rentals, Jackson class c motorhome rentals, Lockeford class c motorhome rentals, Groveland class c motorhome rentals, Snelling class c motorhome rentals, La Grange class c motorhome rentals, SACRAMENTO class c motorhome rentals, Sacramento class c motorhome rentals, Elk Grove class c motorhome rentals, Galt class c motorhome rentals, Folsom class c motorhome rentals, Davis class c motorhome rentals, Roseville class c motorhome rentals, Auburn class c motorhome rentals, El Dorado Hills class c motorhome rentals, Placerville class c motorhome rentals, BAY AREA class c motorhome rentals, Livermore class c motorhome rentals, Pleasanton class c motorhome rentals, Concord class c motorhome rentals, Fairfield class c motorhome rentals, Fremont class c motorhome rentals, Hayward class c motorhome rentals, San Jose class c motorhome rentals, San Leandro class c motorhome rentals, Oakland class c motorhome rentals, Castro Valley class c motorhome rentals, Berkely class c motorhome rentals, San Leandro class c motorhome rentals, Danville class c motorhome rentals, Walnut Creek class c motorhome rentals, Palo Alto class c motorhome rentals, Santa Clara class c motorhome rentals,
CENTRAL VALLEY class a motorhome rentals, Modesto class a motorhome rentals, Ripon class a motorhome rentals, Manteca class a motorhome rentals, Stockton class a motorhome rentals, Oakdale class a motorhome rentals, Riverbank class a motorhome rentals, Turlock class a motorhome rentals, Atwater class a motorhome rentals, Merced class a motorhome rentals, Delhi class a motorhome rentals, Ceres class a motorhome rentals, Tracy class a motorhome rentals, Lathrop class a motorhome rentals, Lodi class a motorhome rentals, Patterson class a motorhome rentals, Livingston class a motorhome rentals, Gustine class a motorhome rentals, Escalon class a motorhome rentals, Newman class a motorhome rentals, Hilmar class a motorhome rentals, Waterford class a motorhome rentals, Hughson class a motorhome rentals, Empire class a motorhome rentals, FOOTHILL class a motorhome rentals, Sonora class a motorhome rentals, Angels Camp class a motorhome rentals, Valley Springs class a motorhome rentals, Jackson class a motorhome rentals, Lockeford class a motorhome rentals, Groveland class a motorhome rentals, Snelling class a motorhome rentals, La Grange class a motorhome rentals, SACRAMENTO class a motorhome rentals, Sacramento class a motorhome rentals, Elk Grove class a motorhome rentals, Galt class a motorhome rentals, Folsom class a motorhome rentals, Davis class a motorhome rentals, Roseville class a motorhome rentals, Auburn class a motorhome rentals, El Dorado Hills class a motorhome rentals, Placerville class a motorhome rentals, BAY AREA class a motorhome rentals, Livermore class a motorhome rentals, Pleasanton class a motorhome rentals, Concord class a motorhome rentals, Fairfield class a motorhome rentals, Fremont class a motorhome rentals, Hayward class a motorhome rentals, San Jose class a motorhome rentals, San Leandro class a motorhome rentals, Oakland class a motorhome rentals, Castro Valley class a motorhome rentals, Berkely class a motorhome rentals, San Leandro class a motorhome rentals, Danville class a motorhome rentals, Walnut Creek class a motorhome rentals, Palo Alto class a motorhome rentals, Santa Clara class a motorhome rentals,
CENTRAL VALLEY rv trailer rentals, Modesto rv trailer rentals, Ripon rv trailer rentals, Manteca rv trailer rentals, Stockton rv trailer rentals, Oakdale rv trailer rentals, Riverbank rv trailer rentals, Turlock rv trailer rentals, Atwater rv trailer rentals, Merced rv trailer rentals, Delhi rv trailer rentals, Ceres rv trailer rentals, Tracy rv trailer rentals, Lathrop rv trailer rentals, Lodi rv trailer rentals, Patterson rv trailer rentals, Livingston rv trailer rentals, Gustine rv trailer rentals, Escalon rv trailer rentals, Newman rv trailer rentals, Hilmar rv trailer rentals, Waterford rv trailer rentals, Hughson rv trailer rentals, Empire rv trailer rentals, FOOTHILL rv trailer rentals, Sonora rv trailer rentals, Angels Camp rv trailer rentals, Valley Springs rv trailer rentals, Jackson rv trailer rentals, Lockeford rv trailer rentals, Groveland rv trailer rentals, Snelling rv trailer rentals, La Grange rv trailer rentals, SACRAMENTO rv trailer rentals, Sacramento rv trailer rentals, Elk Grove rv trailer rentals, Galt rv trailer rentals, Folsom rv trailer rentals, Davis rv trailer rentals, Roseville rv trailer rentals, Auburn rv trailer rentals, El Dorado Hills rv trailer rentals, Placerville rv trailer rentals, BAY AREA rv trailer rentals, Livermore rv trailer rentals, Pleasanton rv trailer rentals, Concord rv trailer rentals, Fairfield rv trailer rentals, Fremont rv trailer rentals, Hayward rv trailer rentals, San Jose rv trailer rentals, San Leandro rv trailer rentals, Oakland rv trailer rentals, Castro Valley rv trailer rentals, Berkely rv trailer rentals, San Leandro rv trailer rentals, Danville rv trailer rentals, Walnut Creek rv trailer rentals, Palo Alto rv trailer rentals, Santa Clara rv trailer rentals,
CENTRAL VALLEY trailer rentals, Modesto trailer rentals, Ripon trailer rentals, Manteca trailer rentals, Stockton trailer rentals, Oakdale trailer rentals, Riverbank trailer rentals, Turlock trailer rentals, Atwater trailer rentals, Merced trailer rentals, Delhi trailer rentals, Ceres trailer rentals, Tracy trailer rentals, Lathrop trailer rentals, Lodi trailer rentals, Patterson trailer rentals, Livingston trailer rentals, Gustine trailer rentals, Escalon trailer rentals, Newman trailer rentals, Hilmar trailer rentals, Waterford trailer rentals, Hughson trailer rentals, Empire trailer rentals, FOOTHILL trailer rentals, Sonora trailer rentals, Angels Camp trailer rentals, Valley Springs trailer rentals, Jackson trailer rentals, Lockeford trailer rentals, Groveland trailer rentals, Snelling trailer rentals, La Grange trailer rentals, SACRAMENTO trailer rentals, Sacramento trailer rentals, Elk Grove trailer rentals, Galt trailer rentals, Folsom trailer rentals, Davis trailer rentals, Roseville trailer rentals, Auburn trailer rentals, El Dorado Hills trailer rentals, Placerville trailer rentals, BAY AREA trailer rentals, Livermore trailer rentals, Pleasanton trailer rentals, Concord trailer rentals, Fairfield trailer rentals, Fremont trailer rentals, Hayward trailer rentals, San Jose trailer rentals, San Leandro trailer rentals, Oakland trailer rentals, Castro Valley trailer rentals, Berkely trailer rentals, San Leandro trailer rentals, Danville trailer rentals, Walnut Creek trailer rentals, Palo Alto trailer rentals, Santa Clara trailer rentals,
CENTRAL VALLEY alternative rv housing rentals, Modesto alternative rv housing rentals, Ripon alternative rv housing rentals, Manteca alternative rv housing rentals, Stockton alternative rv housing rentals, Oakdale alternative rv housing rentals, Riverbank alternative rv housing rentals, Turlock alternative rv housing rentals, Atwater alternative rv housing rentals, Merced alternative rv housing rentals, Delhi alternative rv housing rentals, Ceres alternative rv housing rentals, Tracy alternative rv housing rentals, Lathrop alternative rv housing rentals, Lodi alternative rv housing rentals, Patterson alternative rv housing rentals, Livingston alternative rv housing rentals, Gustine alternative rv housing rentals, Escalon alternative rv housing rentals, Newman alternative rv housing rentals, Hilmar alternative rv housing rentals, Waterford alternative rv housing rentals, Hughson alternative rv housing rentals, Empire alternative rv housing rentals, FOOTHILL alternative rv housing rentals, Sonora alternative rv housing rentals, Angels Camp alternative rv housing rentals, Valley Springs alternative rv housing rentals, Jackson alternative rv housing rentals, Lockeford alternative rv housing rentals, Groveland alternative rv housing rentals, Snelling alternative rv housing rentals, La Grange alternative rv housing rentals, SACRAMENTO alternative rv housing rentals, Sacramento alternative rv housing rentals, Elk Grove alternative rv housing rentals, Galt alternative rv housing rentals, Folsom alternative rv housing rentals, Davis alternative rv housing rentals, Roseville alternative rv housing rentals, Auburn alternative rv housing rentals, El Dorado Hills alternative rv housing rentals, Placerville alternative rv housing rentals, BAY AREA alternative rv housing rentals, Livermore alternative rv housing rentals, Pleasanton alternative rv housing rentals, Concord alternative rv housing rentals, Fairfield alternative rv housing rentals, Fremont alternative rv housing rentals, Hayward alternative rv housing rentals, San Jose alternative rv housing rentals, San Leandro alternative rv housing rentals, Oakland alternative rv housing rentals, Castro Valley alternative rv housing rentals, Berkely alternative rv housing rentals, San Leandro alternative rv housing rentals, Danville alternative rv housing rentals, Walnut Creek alternative rv housing rentals, Palo Alto alternative rv housing rentals, Santa Clara alternative rv housing rentals,
CENTRAL VALLEY emergency rv housing, Modesto emergency rv housing, Ripon emergency rv housing, Manteca emergency rv housing, Stockton emergency rv housing, Oakdale emergency rv housing, Riverbank emergency rv housing, Turlock emergency rv housing, Atwater emergency rv housing, Merced emergency rv housing, Delhi emergency rv housing, Ceres emergency rv housing, Tracy emergency rv housing, Lathrop emergency rv housing, Lodi emergency rv housing, Patterson emergency rv housing, Livingston emergency rv housing, Gustine emergency rv housing, Escalon emergency rv housing, Newman emergency rv housing, Hilmar emergency rv housing, Waterford emergency rv housing, Hughson emergency rv housing, Empire emergency rv housing, FOOTHILL emergency rv housing, Sonora emergency rv housing, Angels Camp emergency rv housing, Valley Springs emergency rv housing, Jackson emergency rv housing, Lockeford emergency rv housing, Groveland emergency rv housing, Snelling emergency rv housing, La Grange emergency rv housing, SACRAMENTO emergency rv housing, Sacramento emergency rv housing, Elk Grove emergency rv housing, Galt emergency rv housing, Folsom emergency rv housing, Davis emergency rv housing, Roseville emergency rv housing, Auburn emergency rv housing, El Dorado Hills emergency rv housing, Placerville emergency rv housing, BAY AREA emergency rv housing, Livermore emergency rv housing, Pleasanton emergency rv housing, Concord emergency rv housing, Fairfield emergency rv housing, Fremont emergency rv housing, Hayward emergency rv housing, San Jose emergency rv housing, San Leandro emergency rv housing, Oakland emergency rv housing, Castro Valley emergency rv housing, Berkely emergency rv housing, San Leandro emergency rv housing, Danville emergency rv housing, Walnut Creek emergency rv housing, Palo Alto emergency rv housing, Santa Clara emergency rv housing,
CENTRAL VALLEY temporary rv housing, Modesto temporary rv housing, Ripon temporary rv housing, Manteca temporary rv housing, Stockton temporary rv housing, Oakdale temporary rv housing, Riverbank temporary rv housing, Turlock temporary rv housing, Atwater temporary rv housing, Merced temporary rv housing, Delhi temporary rv housing, Ceres temporary rv housing, Tracy temporary rv housing, Lathrop temporary rv housing, Lodi temporary rv housing, Patterson temporary rv housing, Livingston temporary rv housing, Gustine temporary rv housing, Escalon temporary rv housing, Newman temporary rv housing, Hilmar temporary rv housing, Waterford temporary rv housing, Hughson temporary rv housing, Empire temporaryrv housing, FOOTHILL temporary rv housing, Sonora temporary rv housing, Angels Camp temporary rv housing, Valley Springs temporary rv housing, Jackson temporary rv housing, Lockeford temporary rv housing, Groveland temporary rv housing, Snelling temporary rv housing, La Grange temporary rv housing, SACRAMENTO temporary rv housing, Sacramento temporary rv housing, Elk Grove temporary rv housing, Galt temporary rv housing, Folsom temporary rv housing, Davis temporary rv housing, Roseville temporary rv housing, Auburn temporary rv housing, El Dorado Hills temporary rv housing, Placerville temporary rv housing, BAY AREA temporary rv housing, Livermore temporary rv housing, Pleasanton temporary rv housing, Concord temporary rv housing, Fairfield temporary rv housing, Fremont temporary rv housing, Hayward temporary rv housing, San Jose temporary rv housing, San Leandro temporary rv housing, Oakland temporary rv housing, Castro Valley temporary rv housing, Berkely temporary rv housing, San Leandro temporary rv housing, Danville temporary rv housing, Walnut Creek temporary rv housing, Palo Alto temporary rv housing, Santa Clara temporary rv housing